Before having a digital aerial installed it's always worth doing a bit of homework first before deciding on who to hire for the installation and what type of aerial to get. Here are a few facts you should know about digital aerial installation before you go ahead: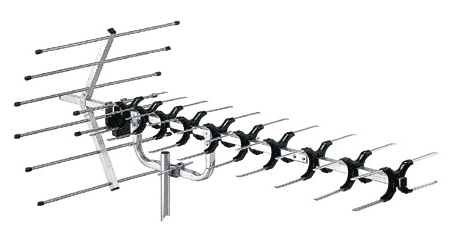 There's no such thing as a digital TV aerial – This may surprise you! Aerials have developed significantly over time and a modern aerial which is designed to receive signals more effectively is referred to in the industry as 'digital'. True, they do look different from older aerials but to call them 'digital' is not strictly true. They are just modern aerials which receive signals more efficiently.
Do you definitely need a new aerial?- Not necessarily. You may need your existing aerial repaired or upgraded, it really depends on the kind of signal you are receiving and where you're living will have a bearing as well. If you keep experiencing a break up in your signal or you get a lot of pixilation then there's a chance that you have some problems with the components in your aerial system or the aerial is not a suitable size to get the best signal strength. Our engineers will do a diagnostic test in these situations to see what the issue is.
Do you need more than 1 aerial if you have several TVs? – This is a question we often get asked. The fact is you only need one aerial to operate multiple TVs. All you need is a multipoint digital media system or have TV and satellite points in each room that you have a TV in. We can advise you on the best solution to suit your needs.
Will you automatically get HD channels if you have a digital aerial installed? – No. The only way you will get HD is if you have a HD ready TV or a HD receiver box attached to your TV. Most TVs that you buy today are HD ready and the move towards Smart TVs with internet functionality and 3DTV as well means that most people are now enjoying HD. A digital aerial helps to enhance the overall viewing experience so that you can enjoy HD at its best.
The above are just some examples of the questions we get asked about aerial installation. If you're experiencing problems with your TV picture and you're looking for some friendly and honest advice about whether you need a new aerial or not then please give us a call. We will send one of our highly experienced engineers to your property and they will conduct a diagnostic test to see what the problem is and provide you with a solution that gives you what you need at a price you can afford.