TVs are getting bigger – there's no escaping it, and in many cases there is no escaping the fact that the mega-sized TV that has caught your eye won't fit in the corner of the room.
It is not just interior design trends that have led to the popularity of wall-mounted TVs in London but the need for adequate space to house these technological wonders.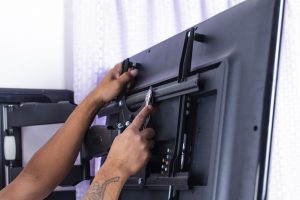 Choosing where to put a TV could make all the difference to your viewing pleasure and with size now very much equating to the techie clout of your TV, wall mounting could be the way forward for your London home.
Why choose a bigger screen?
Large TV screens are not everyone's cup of tea, but more than just a style statement, large TVs now usually translate to an improved viewing experience as the developments in technology kick in at different screen sizes.
While you may not actually want a larger TV screen, the fact that 4k Ultra HD is generally only recommended on screens of 40 inches and up could make a difference to your choice.
Then bear in mind if you want to take advantage of the improved viewing experience promised by OLED technology you would need to look at screen sizes of 55 inches and above.
Finally, for the big screen experience in your home, 8k technology really relies on a larger screen to shine to its full potential so you could be looking at a screen size of 75 inches or more to really maximise the home cinema effect.
Protect your investment with professional TV wall mounting in London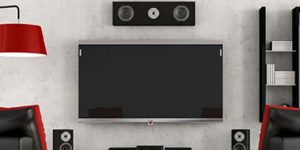 Whichever choice you make may well come down to what you can afford as well as how much space you have in your home. Very often an extra large screen can overpower a room. TV wall mounting in London can help you to take advantage of available space in a room without adding bulky furniture or taking up floor space.
However, it goes without saying that when dealing with a large piece of equipment such as a 65 or 75 inch television that you need the correct fitting in place to make sure the television is secure – and to make sure that your investment is protected.
Using a specialist service for TV wall mounting in London will give you the peace of mind that you need to be sure that your television is securely in place. Another additional benefit of using a professional TV wall mounting service is that you can be sure the set up and positioning is correct thanks to their expertise.
Aerial Services offers professional aerial repair and installation as well as TV wall mounting in London. We understand the concerns people can have when setting up new televisions and the challenges of TV wall mounting in London.
Don't risk an accident or damaging your television, call in the experts when considering TV wall mounting in London and leave the hard work up to us.
To book an appointment for TV wall mounting in London get in touch with Aerial Services.
---
Pillfold House, Old Paradise St, Bishop's, London SE11 6BB
020 7582 8888