Aerial Installation London
If you have TV Aerial problems or satellite installation enquiries regarding a Sky, Sky HD, Freeview, Freesat or multi-room system, call our experienced team for polite and friendly advice today.
From Freeview aerials, TV aerials installation, digital aerials and more. Our installers carry a full range of indoor and outdoor aerials at all times. Their repair and upgrade work is quick & efficient.
About Aerial Services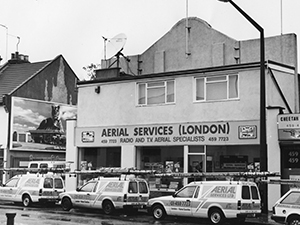 Aerial Services was established in 1968 by Frank Garvin who was also a founder member of the Confederation of Aerial Industries (CAI) which we are still active members of today.
All of our engineers are both experienced and well trained, carrying CSCS Health & Safety cards as well as company ID badges.
We work in all different environments from enormous communal office and hotel systems to domestic homes
We strive to offer a professional and personal service as we are always available to answer questions either by phone or email, and we always aim to do a good job at a fair price. Should you think you may require our services, please give us a call on 020 7582 8888 or contact us here.
TV Aerial Installations & Repairs – London
If you are looking for a tv aerial installation or tv aerial repairs in London, our aerial specialist engineers are available 6 days a week to install or repair a digital tv aerial. We believe in common courtesy and will always do our best to ensure our aerial installer will be with you at the time agreed. We also endeavour to stick to the same day service wherever possible, in London.
Do you need a new TV Aerial Installation in London?
Having a new digital tv aerial installed will enable multi-room ability to watch a range of tv channels, including High Definition, via a built-in service of Freesat satellite set-top box.
Included in this is Freeview, offering a range of additional TV channels with no extra fees or subscriptions.
Our installation company has a comprehensive range of digital aerial equipment in stock. So if you are in London & have poor signal, our aerial installers will still be able to help you – offering the same day service in most cases.
Can I watch TV without an aerial in the UK?
You may be able to stream tv programmes and stations without an aerial, but you would need devices such as a Chrome Cast or Amazon Fire Stick connected to your digital TV and a high-powered WifFi to allow streaming. A poor internet connection, or if you're in an area prone to WiFi disturbances, could make your streaming blurry or often just not work at all, so for a more guaranteed signal at all times, we would recommend a digital aerial or satellite dish.
Do TV aerials still work in the UK?
Even old tv aerials are still capable of receiving digital tv and analogue tv signals; some will have characteristics that make them better at receiving a Freeview signal. Call us free for impartial advice to see if your old aerial could provide a satisfactory Freeview signal without a Freesat satellite replacement.
What Aerial do I need for Freeview?
Although Freeview TV is a free service an aerial needs to have a signal that will transmit to the TV.